Today my gifts from SoundCloud have arrived.
this includes:
a tee
3 small stickers
1 medium sticker
2 large stickers
2 pin buttons
and a greeting card with the text "You're awesome"
I received this after finding an XSS in the platform you can read more about this over here:
https://www.triponoid.com/stored-xss-on-soundcloud-com/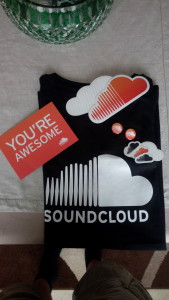 If you have found a bug on SoundCloud.com you can always submit it via:
http://help.soundcloud.com/customer/portal/articles/439715-responsible-disclosure
or direct link to the submission form:
https://scsecurity.freshdesk.com/support/tickets/new
I would like to say thanks for the effort that you guys as a company do to your own community, since you listen to the good fellas under us. Keep up this spirit!