Hola is an application which claims to provide faster, private and access every site without censorship. It's being displayed as the great free VPN service, which has some "amazing" features like data compression, IP-hiding and encryption of your data-traffic. Most of it's users use Hola because of certain applications/websites are blocked in their country and by using Hola you can access those applications and websites.
When a user installs the Web browser extension (Chrome, Firefox, Internet Explorer), Mobile application (Android or iOS), Hola windows application or the standalone browser which is called Torch he becomes a VPN endpoint/open proxy (which means literally the last person).
What does this mean?
Other users who are using Hola's other service which is called Luminati might be on your internet connection and are using your IP. Be aware not every user online is as friendly and genuine as you, there are many users who are abusing this system as for instance using it to post SPAM. Or what if the IS does post something using the Luminati service? Do you want to be their endpoint? I don't think so.
Always think twice why services like this are free!
The reason why this is free is because Hola doesn't pay for any bandwidth that is being consumed via the VPN, and there is no user opt out for these actions. Which means the user has no option to avoid any actions that are being done via this VPN service.
If you think this is like the TOR network you are wrong, people who are using the TOR network are being warned about these actions and they can avoid any other action once the connection is closed.
Great job Ofer Vilenski!
What's the real problem now?
The company who is offering this free Hola VPN is also offering a pay-service where you can get an anonymization of your traffic via the Luminati VPN Network. The following benefits are in the package of Luminati VPN.
Information about Omri (from Luminati):
IPs that are actual devices (not identified as proxies or Tor nodes), and are available in every city in the world. This lets you collect data much faster, from more locations, and more securely.
Hola's Luminati VPN is being displayed as the perfect VPN service, the fastest among them all, it "competes" with Tor. False advertising much!
Getting more behind it:
Website title was IP anonimity service and is now Luminati VPN Network.
The whois is changed with new owner information. The old information had Networks Ltd. Hola in it owner information. See picture as proof: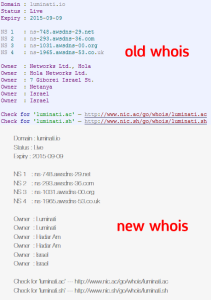 Mail record: mail.hola.org
Server: nginx/1.5.13
You can also view history this on the following website (good job guys with trying to hide something):
https://who.is/domain-history/luminati.io
Both sites are hosted on the same server see picture as proof: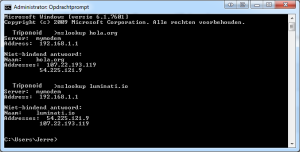 If you are still not convinced that both websites are on the same server, you can have a look for yourself:
http://reverseip.domaintools.com/search/?q=54.225.121.9
After signing up on their website I get the following message:

This service is older than 6 months which means they are have misabused their system for quite some time now.
On the website of Hola.org I found the following:
Hola generates revenue by selling a commercial version of the Hola VPN service to businesses (through our Luminati brand). This is what allows us to keep Hola free for our users. Users who want to enjoy the Hola network without contributing their idle resources can do so by joining the Hola premium service for $5 per month (or $45 per year).
Source: http://hola.org/faq#in_how_is_free
Which is not see Free any more.
Although Hola does display that you are being used as a peer but it doesn't display this on main screen which it should do. It needs to warn people that they are being used too! Second of all this comparison table isn't really user-friendly to find.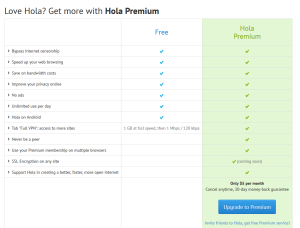 Source: http://hola.org/premium?ref=faq
There should be a clear link to the premium version or comparison table between the versions on the main screen (homepage).
Tips for the future:
Check for whitepapers on the site
Check for useful information (not a misleading website)
Browse google on comments about the service
If possible check if a VAT-number is available